NORTHVIEW HEALTH
Northview Health and Wellness Center, located in central Lonsdale in the heart of North Vancouver, is a multidisciplinary establishment dedicated to enhancing mobility, balance and quality of life. Our multidisciplinary team of healthcare experts consists of highly trained Registered Massage Therapists (RMTs), and a Chiropractor. Each member of our team understands the importance of individualized treatment uniquely tailored to each patient's needs. This level of care for patient wellbeing is what allows our practitioners to work independently or as a team to provide you with the best care possible.
Diana Ljuljovic established Northview Massage Therapy Clinic in 1994. Dr. Jussa (North Vancouver Chiropractic), and Synergy Physiotherapy joined shortly after in an effort to provide patients in North Vancouver, West Vancouver, Vancouver, and beyond with the best healthcare possible in one central location right on the North Shore. In 1994 this was the first multidisciplinary centre in North Vancouver. This long-term commitment to patient centered care along with exceptional diagnostic and treatment methods, has put the Northview name at the forefront of the healthcare industry. Today, Northview massage has grown into Northview Health and Wellness Centre, and continues to redefine and elevate patient care. Come check us out at our relaxing, comfortable, and convenient location right on Central Lonsdale next to Club 16/ She's Fit right here in North Vancouver.
Coronavirus - Covid-19 Update
Some of our practitioners are now open to online booking!
All appointments will be staggered hence we will not be treating the same number of patients as prior to COVID - 19.
Our top priority is keeping you and your family safe as well as our staff.
Thank you for your patience during this next phase.
Be Calm, Be Kind, Be Safe
Stay healthy,
Northview Health & Wellness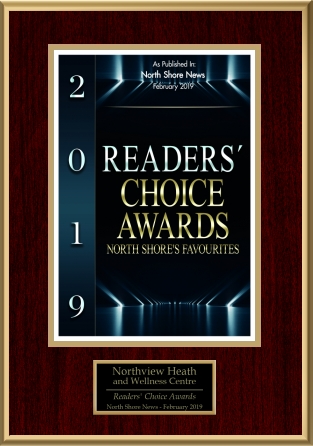 Book Now to make an Appointment
T: 604 986 3771
T: 604 980-4223
We are open:
MONDAY to FRIDAY from 8am to 8pm
SATURDAY from 8am to 5pm
What's New
Northview Massage is now Northview Health and Wellness Center
Here are 10 common reasons people book appointments with us:
● Pain between shoulder blades
● Low Back Pain
● Neck Pain
● Headaches
● Motor Vehicle Accidents
● Sports Injuries
● Stress
● Fibromyalgia
● Lymphedema
● Arthritis

Gift Certificates Available